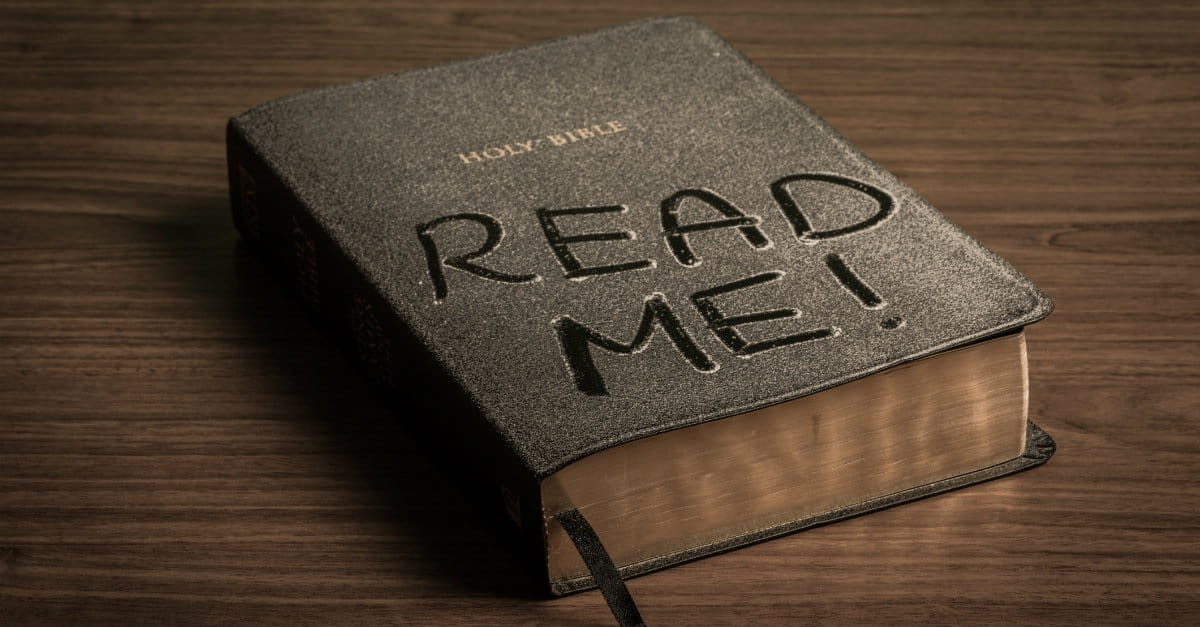 "A Bible which is falling apart usually belongs to someone who's not!"
Are you falling apart?
Where's your Bible right now?  Is it on your bookshelf, in your car, on your desk, nightstand, or you're not sure?
How often do you read your Bible?  Daily, weekly, yearly, or you can't remember the last time you read your Bible?
How's your Bible?  Is it dusty or well worn with lots of use?  What are your struggles in reading it daily?  Chances are good that one of the following reasons resonates with you:
I don't understand the Bible.  If your Bible is difficult to understand, purchase a translation written in modern everyday language. I read from the New American Standard and the New Living Translation, but I enjoy using other translations, too. 
I don't know where to start.  Start in the New Testament with the Gospel of John, and from there, read the book of 1 John.  Daily reading plans are good, too.
The Bible is boring.  Again, if you're struggling to read a translation that is difficult to understand, the Bible will appear dull.  Modern words and sentence structure help with our comprehension.
The Bible is confusing.  It can be, but it doesn't have to be!  Anything is confusing when you're not familiar with it.  The more time you spend reading the Bible, the more you will understand.
I never get anything out of it.  If you go to the Bible to "get something," you might consider changing your motivation.  Always pray before reading the Bible, asking God to open your eyes to hear from Him, and put into practice what you read.  
I don't have time.  We always make time for what's most important to us.
I can't understand it. It's a ministry of the Holy Spirit to guide you into truth and help you know. It's clear throughout the Bible that God does not withhold his Spirit. All you need to do is ask God to give you understanding. The Bible itself instructs this very thing (Ephesians 1:13).  If you're not confident that you know Christ, read here.
The Bible is full of errors.  The Bible's margin of error is less than 1 percent, and in that small percentage, the inaccuracies are a difference in minor prepositions. None of the 1 percent gives any confusion to the meaning of the text. In fact, the more we discover in history and archaeology, the more both continue to prove the accuracy of the Bible, which scripture tells of itself,  "Every word of God proves true." Proverbs 30:5
The Bible is outdated.  The Bible wasn't written to conform to our lives, our lives are to conform to the written Word of God. Every God-breathed word, jot, and tittle is as relevant today as the day it was written.  
I might have to change.  What's wrong with change, if your life doesn't line up with the Word of God.  
So, how do you start reading your Bible consistently?
Start by taking it one day at a time.  If you are persistent, you will soon become consistent.  Don't give up!
Keep your Bible in plain sight. Knowing where your Bible is at times will remind you that you have an appointment to keep with Almighty God.
Keep a journal.  Write down what God says to you and what you say back to Him.
Have a plan.  Reading the Bible is a rewarding experience, and there are Bible reading plans available to help you with that.
Pray!  Ask for God's help.  You need the help of the Holy Spirit to understand the Bible and to be faithful.
Purpose in your heart to hear from God daily!  The Word of God is alive and powerful!  "For the word of God is alive and powerful. It is sharper than the sharpest two-edged sword, cutting between soul and spirit, between joint and marrow. It exposes our innermost thoughts and desires." Hebrews 14:12.  
God bless you on your journey!
Great is His Faithfulness, Deb